Fama Luci Pop G footstool
Our Fama Luci Pop modular sofa features a sculptured seat giving outstanding comfort with a modern look. Each seat is avalible with a high or low back, the high back. The Luci Pop has 3 x feet options low, 12cm wooden feet and 12cm metal sprung feet.
Product Features:
Finish: Fabric
Dimensions: L:53cm W:93cm H:45cm

Luci Pop Schematic
Available (allow 8 weeks for delivery)
DEPOSIT PAYMENT OPTIONS AVAILABLE AT CHECKOUT
Product Description
Complete your Luci Pop sofa formation with the addition of a footstool. Available in two sizes giving you great flexibility to move around any of the modular seats, either to create a chaise style seat or to position at the side of your end seat doubling up as a side table.
Comes with three feet height options; low 3cm legs, 12cm wooden feet and 12cm metal sprung feet. The sprung metal feet does offer extra subtle suspension to your seat which I find works very well.
The design of the Luci Pop does lend itself to being bold with colour when it comes to choosing fabric. With such a fantastic range of colours, textures and patterns to choose from you can certainly have fun creating your Luci Pop sofa. Email sales@juliajones.co.uk and we can send you free samples for review.
Dimensions W 93 x D 53 x H 43 cm using 12 cm legs (same as seat height)
More from this collection...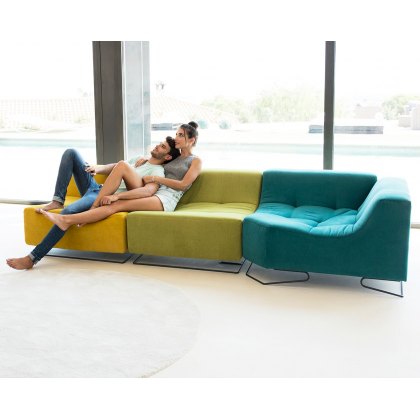 Related items in this collection...