Delivery
Our standard shipping charges are listed below. If you have any special requests, please don't hesitate to get in contact with us to discuss your needs.
Area
Shipping Costs
UK Mainland

Light Items: £6 on orders under £99 Free over

Standard Delivery: £12 on orders under £99 Free over

Large Items (dining chairs & stools): £20

Fragile Items eg. Mirror, Large Tables: £39-£65

Pallet Retail Delivery (pallet removed) £49

Heavy Item e.g. Sofa: £75

Heavy Items on Clearance, e.g. Ex-Display Sofas, Tables: £99

Scottish Highlands

Approx. £45 surcharge, please contact us for exact pricing

UK Islands & Ireland
Please contact us
If you are not available to accept a delivery, it can be stored for you for up to 2 weeks without charge. After this time, you will be liable to pay £12 per week per item to cover storage costs. To avoid this situation please notify us when you order if you are likely to be away on holiday around the estimated delivery time so that we can do our best to arrange the delivery time with our suppliers.
---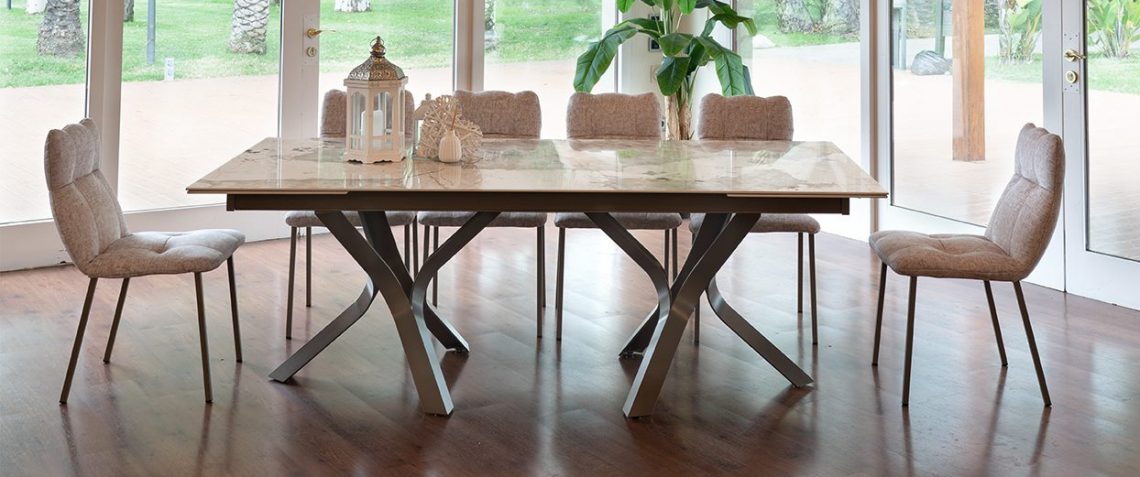 ---
Looking for a dining table to keep up with family life ?
Each of our Dekton dining tables are made to order in southern Spain by our metal framing specialist along with the Dekton tops supplied by Cosentino.
We offer a range of extending and fixed top dining tables in a selection of sizes, each available in any Dekton colour and the legs are available in a selection of colours. We also offer a collection of outdoor Dekton dining tables suitable for your patio. With each table being specially made to order it is possible to have a bespoke table sizes made especially for you. (Dekton max size 320 x 144cm)
Key features of Dekton finish
High scratch resistance - kitchen utensils will not scratch Dekton (XGLOSS is less scratch resistant than matt finishes)
Stain resistant - Dekton is highly resistant to stains, making them easy to clean
Heat resistant - Dekton will withstand high temperatures
High impact resistance - highly resistant to daily impacts
Abrasion resistant - highly resistant to abrasions
Reduced water absorption - Dekton is non-porous so making it really easy to clean, also suitable for use outdoors.
High UV resistance - Dekton has a low coefficient of thermal expansion ensuring its high resistance to sudden temperature changes
---
Care for your furniture
We take care of the furniture and lighting that you order, and use trusted delivery companies to ensure that your furniture is cared for all the way to your door.
Bulbs and standard items are shipped on a next day service via Delivery Solutions, who use the APC network .
The next day service that we use guarantees delivery to your address by 4pm, Monday till Friday.
We are able to arrange delivery outside of this time frame, however there will be an additional charge.
If the furniture or lighting that you order is held in stock at our North Wales showroom then it will be despatched that day (If we receive the order before 1pm)
If you order a standard sized custom made item of furniture for eg. Leather Dining Chairs, then once your furniture arrives at our showroom from the manufacturers, we will check the order for any damage then despatch them on a next day service (We will always call/e-mail you to let you know we are going to despatch your order)
Out of Hours Delivery Service
Charges for out of hours delivery of Standard & Light items:
Saturday Delivery – £15 surcharge
By 9pm – £15 surcharge
If you would like to pay for an out hours delivery service, please request it over the phone or within the customer's notes on an online order.
Heavy and Fragile items of Furniture
For the heavy and fragile items of furniture that we sell we use a White Glove delivery service, provided by Home & Retail, to ensure that you receive the best possible level of service.
Your furniture carefully delivered by professional furniture carriers
Your furniture will be carried to the room of your choosing (access dependant)
Your furniture will be unwrapped and professionally assembled
All of the packaging shall be removed from your house
---
Returns & Refunds
Made to Order items (eg. Sofas or Armchairs in your chosen fabric, or custom dining chairs) are tailor made to your taste and so we are unable to accept returns unless the item is damaged. If the item is damaged we will do everything possible to rectify the problem.
Stock items purchased online can be returned if unwanted within 7 days of receipt in exchange for a full refund of the amount paid. If goods are bought in store and are not faulty, we may take them back for exchange or a credit note at the discretion of the Store management. This does not apply to items which are made to order.
If goods are genuinely faulty, Julia Jones Ltd will ensure that this is rectified either through repair, replacement or refund. This does not include faults of a cosmetic nature arising from normal wear and tear. This does not affect your statutory rights and is in accordance with the Sale of Goods Act 1979.
We reserve the right not to accept any order request if we have insufficient stock to deliver the goods you have ordered; we do not deliver to your area; one or more of the goods ordered was incorrectly described or priced on the website; or the payment transaction is not authorised. If we do cancel your order we will notify you by email and will refund to you any sum paid by you to us in respect of the order as soon as possible and in any event within 30 days of the cancellation of your order. We will not be obliged to offer any additional compensation for disappointment suffered.
---
Click into the Dekton categories below to view & buy online
---
---
---
What is Dekton ?
Dekton is made from a proprietary blend of natural quartz stone, porcelain, and glass. These raw materials are fused and compressed under high pressure to create a slab material that is very dense and compact. This makes Dekton the most practical material to use to make tabletops out of.
Highly Scratch-resistant - Dekton is the most scratch-resistant surface on the market and while the slip of a knife won't damage Dekton, cutting boards are still recommended to protect your household utensils.
Resistant to stains - While other surfaces are stain resistant, Dekton is completely Stain Proof. Even the most stubborn stains like wine, coffee, markers and rust can easily be removed from the surface. Since Dekton has extremely low porosity and contains no resins, it is chemically resistant. Drips or splashes of common household chemicals like bleach, drain cleaners or oven degreasers won't harm Dekton.
High Resistance to fire and heat - Dekton withstands high temperatures without burning, scorching or cracking. Hot Pots and Appliances like Crock Pots can be placed directly on the surface with no worry of damage.
Resistant to abrasion - Dekton is even more resistant to abrasion than granite making it the ideal surface for commercial applications and high traffic areas such as flooring. While other surfaces show wear over time, Dekton's finish will last for the life of the product and never needs to be re-surfaced or re-finished.
High UV Resistance - Dekton is highly resistant to ultraviolet (UV) light and will not fade or degrade over time making it perfect for indoor tabletops
---
---
Dekton is our favorite surface for dining tables, just click the video below to see why we recommend Dekton to our clients. Watch Antony Carrino cook a simple mouth watering simple receipt in his own kitchen, as he points out why he chose Dekton.
---
Living with Dekton at home
---
We get asked all the time, what is Dekton and how is it made. Just click on the video below to see what it takes to make Dekton.
---
---