About Us
Welcome to Julia Jones, we hope you enjoy walking around our virtual showroom. If anything catches your eye, follow the links to find out about them alternatively just give us a call or message us. Our showroom is constantly changing, Rob is always adding to our collection of furniture & lighting. As you walk round our virtual showroom you will be able to spot Rob & Zeta.
Just click on the image below to enter our showroom virtual tour, use your curser to navigate your way round.
---
Visit our store virtually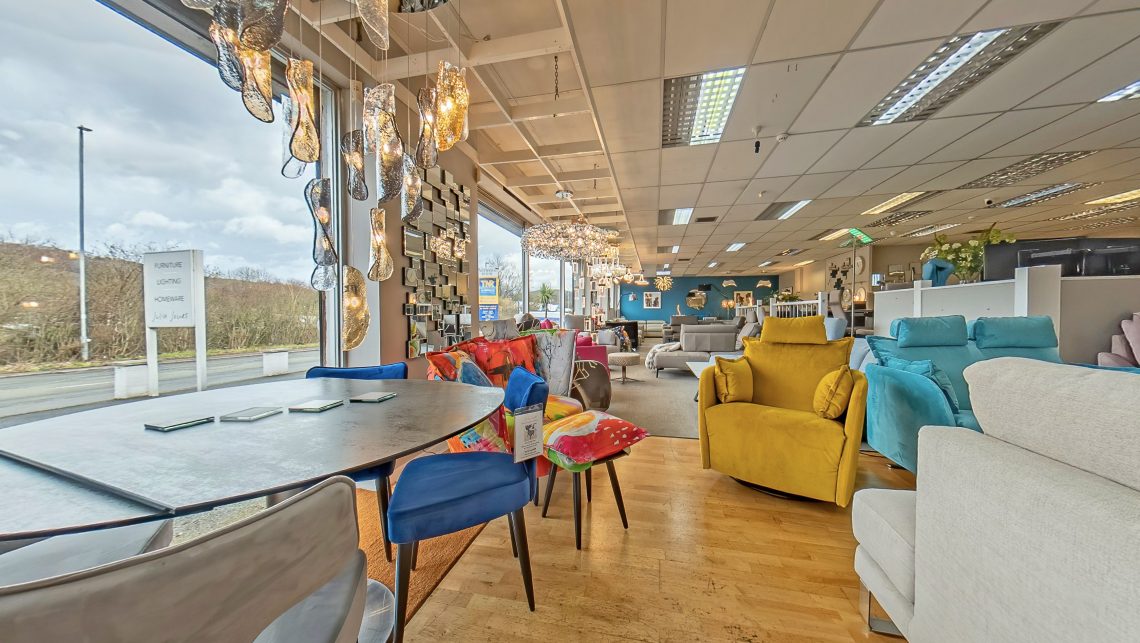 ---
Visit us at an exhibition this year
We are pleased to announce, we will be exhibiting this year at the Homebuilding & Renovating Show and also Grand Designs Live. Why not come and visit us to try out our modular sofas, power recliners, and dining tables & chairs.
Exhibition Dates:
Homebuilding & Renovating Show at the NEC Birmingham on 24th-27th March (what a great show and we have rebooked for 2023)

Grand Designs Live at the NEC Birmingham 5th - 9th October
---
About Us
Julia Jones is a designer furniture & lighting showroom based in North Wales, specializing in made-to-order modern furnishings that are easy to customize to fit your vision for your home.
The company was originally founded over 50 years ago by Julia Jones herself and is now run by her son Robert and daughter Zeta.
Our showroom is the only destination in North Wales where you can find the latest high quality designer furniture & statement lighting.
We want people to enjoy their shopping experience with us and we encourage you to visit our showroom and see how comfortable our range of furniture is.
We have a team of individuals who are enthusiastic and passionate about interior design, who are more than happy to help with any queries you may have, who can help offer you some inspiration and guidance if you are unsure on which particular direction you wish to take with your project.
Our Showroom
Our showroom is the only destination in North Wales where you can find the latest furniture and lighting from contemporary European designers such as Bontempi Casa, Fama and more.
We want you to enjoy your experience shopping with us and encourage everyone to sit or lie on all of the furniture we have on display, but if you can't visit us walk round our showroom above on our virtual tour.
Nearly all of the furniture and lighting has a variety of options for colour finishes and sizes, so if none of our display items match your needs, there will be an option available that will!
Showroom Opening Hours
Monday - Tuesday: By appointment only
Wednesday to Saturday: 10:00 – 16.00
---
Over 50 Years of Experience
Julia Jones is a family run independent showroom and online retailer based in North Wales, providing a wide range of modern contemporary home furnishing. Established in 1970 by Julia Jones, the company is renowned for quality and attention to detail.
The company began by producing soft furnishings, before diversifying to providing contemporary furnishings from the leading manufacturers throughout the world.
Julia Jones Ltd. remains a trusted company which can be relied upon for quality products and honest service, valued by many local businesses and private clients throughout the UK.
Whether it's a stunning light for your entrance hall or a modular sofa design tailored for your lounge, you can rely on us – we have the experience of over 50 years in the business!
---
Returns Policy
Furniture bought from stock
Under the Distance Selling Regulations, if you buy items from stock online or by phone, your consumer rights entitle you to a full refund if you request one in writing within 14 days after the day of receipt. This does not include any delivery charges. If you require us to collect the goods we reserve the right to make a charge to cover collection costs.
Accessories
For small items (delivered by mail/courier), you (the customer) are responsible for the cost and safe return to Julia Jones Ltd. Where large products are returned unwanted and you require us to collect (if bought from stock and returned within 14 days as per the Distance Selling Regulations), we reserve the right to make a charge to cover the collection cost.
Exclusions
We are unable to offer refunds or exchanges on the following items, unless faulty:
All specially ordered goods Inc. lighting & Paint

Made to measure

Bespoke items
---
Julia Jones Ltd Company Terms & Conditions
Please click to see our full terms & conditions
More
---
Julia Jones Ltd Privacy Policy
Please click to see our Privacy Policy
More
---