About Us
Welcome to Julia Jones, we hope you enjoy walking around our virtual showroom. If anything catches your eye, follow the links to find out about them alternatively just give us a call or message us. Our showroom is constantly changing, Rob is always adding to our collections. As you walk round our virtual showroom you will be able to spot Rob & Zeta.
Just click on the image below to enter our showroom virtual tour, use your curser to navigate your way round.
---
Visit our store virtually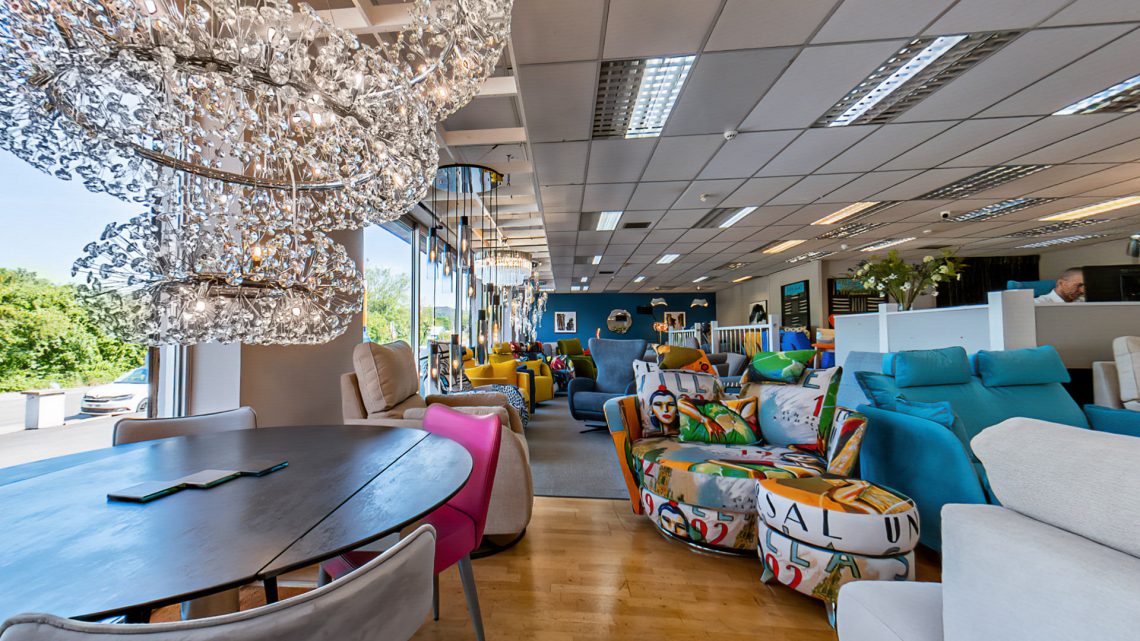 ---
About Us
Julia Jones, established in 1970 by its namesake founder, has evolved into a family enterprise presently managed by a dynamic brother-and-sister duo, Robert and Zeta Jones. This extensive lineage and the sturdy family principles serve as the foundation for our firm's unwavering commitment to delivering exceptional furniture shopping experiences.
Our niche in the market, specialising in the retail of distinguished furniture brands such as Fama, Bontempi Casa, and Nardi, stands as evidence of our devotion to upholding standards of quality, artistry, and sustainability. These values run deep within our corporate culture, handed down through generations.
Fama, Bontempi Casa, and Nardi have earned their outstanding reputations by virtue of their exceptional quality and meticulous craftsmanship, values that resonate harmoniously with Julia Jones' core principles. These brands are celebrated for their ability to produce furniture that marries captivating aesthetics with enduring durability, reinforcing our belief that investing in high-quality furniture elevates both the comfort and style of one's home.
Furthermore, our collaboration with these brands accentuates our shared dedication to sustainability. Fama employs eco-friendly materials and processes, minimising its environmental footprint. Bontempi Casa champions sustainable design and responsible manufacturing, while Nardi specialises in recyclable outdoor furniture, contributing to a greener planet.
By focusing on these brands, Julia Jones provides customers with a thoughtfully curated range of furniture that caters to their specific needs and values. Our knowledgeable staff, under the guidance of Robert and Zeta Jones, extends expert advice, ensuring a seamless shopping experience.
In essence, our longstanding family-run enterprise, now steered by Robert and Zeta Jones, remains deeply committed to quality, sustainability, and customer satisfaction. We empower our customers to create homes that are not only aesthetically pleasing but also environmentally responsible, designed to withstand the test of time.
---
Showroom visits by appointment only
Monday to Saturday: 10:00 – 17.00
Contact us to book your private viewing
Our decision to operate on an appointment-only basis at our specialist furniture showroom is rooted in our commitment to delivering an outstanding and personalised customer experience.
First and foremost, it enables us to allocate dedicated time and attention to every customer. By scheduling appointments in advance, we ensure that our highly trained staff can fully grasp the unique needs and preferences of each visitor. This customised approach empowers us to guide customers through our extensive selection of specialized furniture, offering expert advice and recommendations that align with their individual tastes and requirements.
An appointment-only system also helps maintain a calm and unhurried atmosphere within our showroom. Unlike traditional walk-in stores, where crowds and noise can become overwhelming, our appointment system provides a peaceful and focused environment. Customers can explore our furniture collections at their own pace, ask questions, and make informed decisions without disruptions.
Furthermore, it aids us in managing inventory and upholding the quality of our showroom. By knowing when customers will be visiting, we can ensure that all furniture pieces are in immaculate condition and readily available for viewing, contributing to a superior shopping experience.
In essence, our appointment-only policy underscores our commitment to delivering exceptional service, individualized attention, and a tranquil shopping environment. It allows us to cater to the unique needs of each customer while maintaining the highest quality standards in our showroom, ultimately resulting in a more satisfying and memorable furniture shopping experience.
---
Returns Policy
Furniture bought from stock
Under the Distance Selling Regulations, if you buy items from stock online or by phone, your consumer rights entitle you to a full refund if you request one in writing within 14 days after the day of receipt. This does not include any delivery charges. If you require us to collect the goods we reserve the right to make a charge to cover collection costs.
Exclusions
We are unable to offer refunds or exchanges on the following items, unless faulty:
All custom made specially ordered goods

Made to measure

Bespoke items

Custom made
---
Julia Jones Ltd Company Terms & Conditions
Please click to see our full terms & conditions
More
---
Julia Jones Ltd Privacy Policy
Please click to see our Privacy Policy
More
---