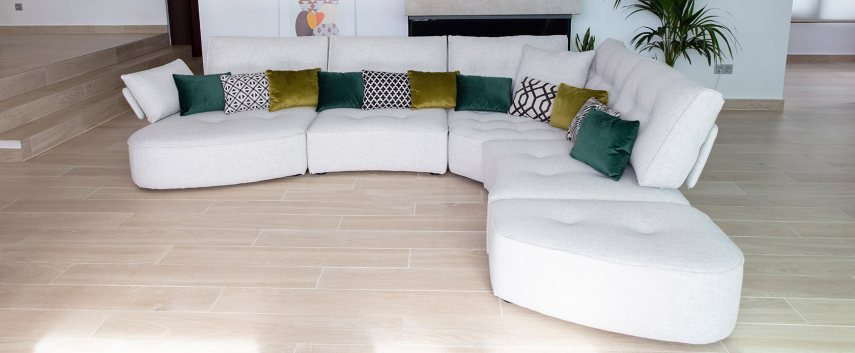 Fama Arianne Plus (removable covers)
Fama Arianne Plus seating modules are a real fun and comfortable sofa giving you great flexibility to create the sofa you want, with the Plus version of the Arianne the covers are removable. But also giving you the flexibility to change the layout in the future. This makes the Arianne Plus sofa great for clients who rent or people who would just like to change their room around regularly. Make every seat module a different colour or have them the same, it's up to you. It all works with Arianne Plus.
Another great feature of the Arianne Plus, is that it also makes a great sofabed when you remove the back cushions.
Each of the Arianne Plus modules comes with 3cm high black plastic feet which can hardly be seen. This gives the seating its low casual look. If you would like the seating to be a little higher we have a selection of chrome or wooden feet that can be chosen.
Features of Arianne Plus sofa
Create your own sofa
Low comfortable relaxed seating position
Removable covers
Feet hight options 3cm or 10cm
Multiple fabric options
Flexibility with its modular sections, allow you to change the shape the layout
Turns into a sofa bed (2 x seats required to create a single bed)
Easy to move about and fit into rooms with narrow access, making it ideal for loft rooms
Below we have shown some ideas of sofa layouts with prices just to give you an idea of what is possible to create. Below are the build your own sofa modules that you can select individually to create your sofa just the way you want it. To help you visualize your sofa why not try out the Fama 3d simulator, this allows you to add the modules together and cover them in your chosen fabrics or leather. Or we can do this for you and offer room layout design advice either instore or online via phone or video chat. We also send out swatch samples to make sure the colours look great in your room.
---
---
---
---
---
---
---
---
---
---
---
---
---
---
---
---
---
---
---
---