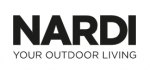 Nardi Outdoor
Welcome to Nardi outdoor furniture, it's designed to turn any outdoor space into a comfortable and sociable place, it's lightweight, extremely practical and colourful as it's available in a great range of colours.
Nardi outdoor living & dining furniture is not only ideal for gardens & patios at home, but also commercial areas such as bars, restaurants, hotels & swimming pool areas.
It's hard wearing polypropylene & resin to withstand British weather & saline / salty environments, so it's ideal for coastal areas & pool sides.
Click into the Nardi categories below to view & buy online
Why we love Nardi
100% recyclable - Nardi polypropylene products are 100% recyclable and when returned to the company, they can be used to create new products. Nardi has always recycled all its production waste and this led to the idea of recovering used plastic to regenerate it. Regenerated polypropylene can be used for new products based on the circular economy. A regenerated product involves a reduction in the use of raw materials and energy, with obvious advantages for the environment.
Low energy production - Nardi's factories are partly powered from solar energy with the latest production plant respecting the highest environmental standards.
Great for the environment - The water used in production is not contaminated. Nardi does not emit polluting gases or smoke into the atmosphere. Waste generated during production is reintroduced into the production cycle. Nardi's own cardboard packaging boxes contain more that 75% recycled fibres.
Stylish Italian design & manufacture - Designed by Raffaello Galiotto and produced in Italy thanks to Nardi's experience, gained over multiple decades, Nardi products have received international accolades such as the Adi Design Index, the Red Dot Design Award, Good Design Award and the Green Good Design Award.
Shop By Product
---
---
---
---
---
---
---
---
---
---
---
---
---
---
---
---
---
---
---
---
---
---
---
---