Fama Luci Pop corner sofa A+A+Z+A
Our Fama Luci Pop corner sofa features a sculptured high seats giving outstanding comfort with a modern look. The Luci Pop has 3 x feet options low, 12cm wooden feet and 12cm metal sprung feet.
Product Features:
Finish: Fabric
Dimensions: L:206cm W:299cm H:92cm

Luci Pop Schematic
Available (allow 8 weeks for delivery)
DEPOSIT PAYMENT OPTIONS AVAILABLE AT CHECKOUT
Product Description
The Luci Pop is a fab looking clean line modern sofa. Don't think this does not look to be that comfortable, because it's immensely comfortable due to its ergonomically designed shape. Forget the use of cushions to get yourself comfy, with the Luci Pop you don't need them. The shape of each modular unit gives your back all the support to relax and enjoy lounging on this sofa.
Due to its modular make up, you can move each unit around, either to change the colour formation make up or if you fancy complete sofa formation change. Great too if you move house or apartment giving you greater flexibility to your new room formation. Each unit is kept together by a clasp to stop them moving apart. Such a flexible design like Fama's Arianne Love modular sofa collection.
Comes with three feet height options; low 3cm legs, 12cm wooden feet and 12cm metal sprung feet. The sprung metal feet does offer extra subtle suspension to your seat which I find works very well.
The design of the Luci Pop does lend itself to being bold with colour when it comes to choosing fabric. With such a fantastic range of colours, textures and patterns to choose from you can certainly have fun creating your Luci Pop sofa. Email sales@juliajones.co.uk and we can send you free samples for review.
Dimensions W 206 x L 288 x D 95 x H 92 cm with 12 cm legs

Seat height 36 cm with standard 3cm legs, or 45 cm with either 12cm wooden or metal legs

Please note the corner unit has a depth of 113 x H 95 cm, so please do contact us if your worried about entry to your house or apartment
More from this collection...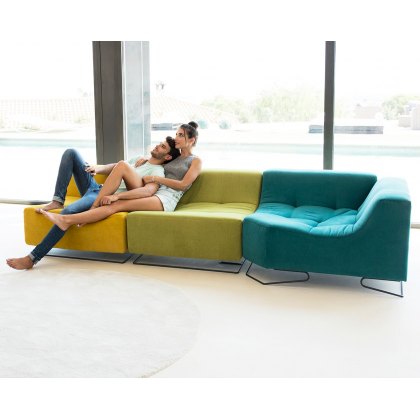 Related items in this collection...